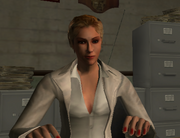 Deena Dixon was one of the first females in her class to be a Lieutenant. Deena Dixon's had a harder time than most proving herself in the testosterone-driven environment of New Yorks toughest precincts. Her soft side shows through, though, in her mentoring of officers that show potential. Marcus Reed is the beneficiary of this mentoring, with Dixon getting him out of a few tough spots, helping with his training, and generally watching his back.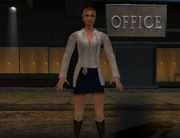 Her professionalism and toughness make her respected throughout the department, most importantly by Victor Navarro, head of the Organized Crime Unit. It is Dixon who shields Marcus Reed from the brunt of Navarro's aggression, but the promise she sees in Marcus makes her confident of her time invested in him.
Deena's role in True Crime: New York City is to be sort of a den mother to Marcus. She shows a side of compassion to Marcus that she does not show to everyone in her unit. She can be lenient when she wants to be and stern when she has to be. Make no mistake - at the end of the day, she makes sure that Marcus gets his duties done. Deena functions throughout the game in the pivotal role of Marcus' boss.
Lieutenant Dixon was voiced by Mariska Hargitay.